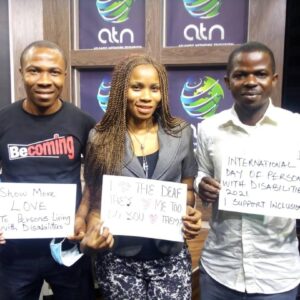 After a Live Interview on Television
December 3rd each year is set aside to remember, celebrate and commemorate persons with disabilities the world over. D-Ability initiative, in partnership with Voices of The Vulnerable, marked the IDPD 2021 by engaging in media advocacy and granting interviews on Atlantic Television Network (ATN).
Part of the interview centered on the progress or otherwise recorded as regards the implementation of the Discrimination against Persons with Disabilities (Prohibition) Act 2018.
It is obvious that while the Nigerian Government did well by enacting such a laudable law, the implementation leaves much to be desired.
However, we will keep up the advocacy, hoping that someday we will get it right.